History
Cartersville Service League was founded in 1941 by a group of women who, during World War II, saw the need for assistance of families right here in Bartow County while men were away fighting. Many supplies were needed on the frontlines of war, so local woman would gather to sew, collect, and make supplies to send to the troops. From there, Cartersville Service League expanded by raising money for organizations that were working with women and children here in Bartow County, including the American Red Cross and Girl Scouts.
The goal of Cartersville Service League has always been to foster and promote involvement for the social, economic, education, culture, and civic organizations of Bartow County. Currently, all fundraised and volunteer efforts stay right here in Bartow County in order to  give back to the community that serves us all.
Our Charter Members:
Mrs. Dargan Cole, Mrs. Ray Dellinger, Mrs. Gaz White, Mrs. John Dent, and Mrs. Ryan Friser
1940's-1950's
During the 1940's and 1950's, efforts included a Christmas dance to raise money by selling Christmas Seals to fight Tuberculosis (later turning into American Lung Association), donating grocery store creditsto families in need, volunteering at immunization clinics and  blood mobiles, and rummage sales to help raise funds for American Red Cross and Girl Scouts. In 1942 each member worked 3 hours per week for the Red Cross and each served breakfast and presented kits for the draftees leaving for war.
1960's
Along with other events, Cartersville Service League hosted a large spring dance that benefited several organizations including the Bartow County Child Welfare Council. Cartersville Service League continued giving to families in need and volunteering where needed, including blood bank, rummage sales, immunization clinics, tuberculosis clinic, and mental health contributions. Additionally, Cartersville Service League assisted in providing hearing and vision tests in the local schools.
1970's
Cartersville Service League continued many efforts from prior years including rummage sales, hosting a spring dance, and continued assistance with hearing and vision testing in schools. In 1976, they hosted a Christmas Bazaar as well as a Follies Dance that raised $9,000. Adjusted for inflation, that is the equivalent of over $46,000!
1980's
Cartersville Service League continued with fund raising efforts including dances, rummage and, most exciting, a cruise giveaway. The League continued hearing and vision screening which moved to the health department and helped with blood mobiles. The League also continued to give to Girl Scouts, Methodist Children's Home, Sarah Murphy Home, Etowah Foundation scholarships, and even paid for a child's orthodontal work.
1990's
Cartersville Service League once again outdid themselves by advancing the goals of fundraising efforts and volunteering throughout the community. Specifically, the League focused on growing efforts that have been very successful for years with continuing rummage sales, spring dance, ways and means production, and more. CSL helped to accomplish the opening of Flowering Branch Children's Home with funding raising and volunteering with Advocates for Bartow's Children (now called Advocates for
Children), volunteering at the Boys and Girls Club, while still aiding with hearing and vision clinics. Additionally, the League donated funds to the Etowah Foundation, Boys and Girls Club, and many more causes and organizations.
2000's
Carrying on the tradition of serving the women and children and families across Bartow County, Cartersville Service League raised money with rummage sales, spring dances, ways and means production, and poinsettia flower sales. Volunteering hours continued with service at Bartow Family Resource Center, Bartow County Special Olympics, Boys and Girls Club, and more. Over 40 local organizations receive donations from the League.
Today
Our fundraising now include our annual rummage sale, clays for a cause skeet shooting event, Christmas poinsettia flower sales, spring golf tournament, and spring fern sales.
With the community assistance in support of our fundraising efforts, the following organizations have been awarded grants, including but not limited to:
Act I, Inc.
Advocates for Children
Affirming U, Inc.
Bartow Christmas Coalition
Bartow County Juvenile Court
Bartow County Library System
Bartow County Shop with a Hero
Bartow Education Foundation
Bartow Family Resources
Bartow History Museum
Bless Coalition
Boys and Girls Club of Bartow County
Boys and Girls Club of Bartow County
Cartersville Schools Foundation Mentor Canes
Etowah Scholarship Program
Footprints on the Heart, Inc
Good Neighbor Homeless Shelter
Hands of Christ After School at Douglas Street UMC
Hands of Christ After School at FPC
Hickory Log Personal Care Home
New Beginnings Food Outreach, Inc.
Project SEARCH at Cartersville Medical Center
REACH Georgia, Bartow County
Recovery Bartow
Special Olympics Bartow County/City of Cartersville, Inc.
St. Francis of Assisi Church VBS Program
The Bookmobile – Reading to go places
The Hope Center Foundation
Tonsmeire Community Clinic
Tranquility House
Walker Phillips Foundation
Our Mission
The purpose of this League shall be to foster and promote involvement in and support for the social, economic, educational, cultural and civic organizations of Bartow County.
Awards
Cartersville Service League was awarded the 2019 & the 2020 C.A.R.E award from the Boys and Girls Club for the state of Georgia.  The C.A.R.E Award (Children Are the Reason for Excellence) is given annually as to recognition of individuals, donors, and corporations from all sectors for outstanding efforts to impact the lives of the children who need us most throughout the Georgia area.  In total CSL has received this award four times since it's inception.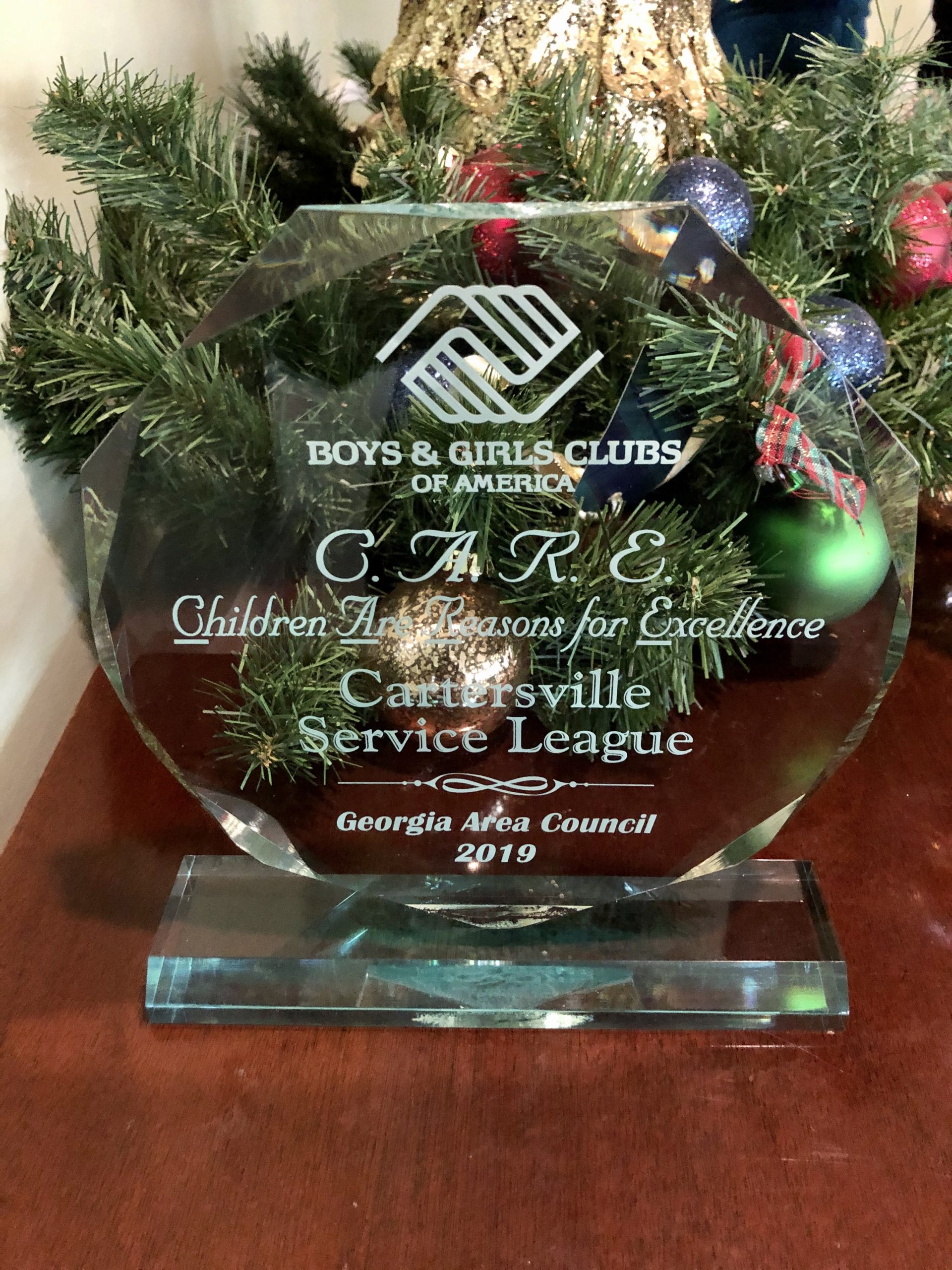 From 2022-2023 we:
• Had 35 Active Members
• Donated $100,510 locally
• Volunteered 3,500+ Hours
Cartersville Service League
P.O. Box 1678
Cartersville, GA 30120
CartersvilleServiceLeague@gmail.com